1 October 2021,
Today marks a significant event whereby AFGRI Equipment and Rentworks entered into an agreement whereby access to short and medium-term rental of construction equipment is offered. The deal is set up currently for John Deere Backhoe Loaders only, but in the future might include additional construction and mining equipment. This offer is well suited for Plant hire and rental companies to leverage the flexibility of rental solutions to improve company cash flow.
This announcement follows exceptional growth in the sales of John Deere construction equipment over the last quarter.
"We have been surprised with the interest in John Deere Construction Equipment over the past couple of months since John Deere announced their decision of consolidating the Southern African distribution channel to their strong Agricultural footprint. The businesses units offer amazing synergy and our aftersales service support for construction equipment is experiencing good growth. We are convinced that John Deere Construction equipment will play a big role in the market and we are proud to represent these world-class machines. Naturally, we wanted to grow our product offering into the Plant Hire and rental market and we believe that this deal will be well-tailored to their needs." – Pieter Nel – AFGRI Equipment Construction and Forestry Operations Manager.
Here are the T's and C's
* Only available to businesses 2 years or older
* Revenue greater than ZAR 2 Million per annum
* Rental period of minimum 12 months
Here are some of the benefits of Renting through Rentworks
* NO deposit* Available to qualifying customers only
* First payment in month 4
* Covered by a full maintenance plan, travel included
* Comprehensive extended warranty included
* Flexible end of term option – Return or Retain
* 36 months finance solution
* RentWorks carries residual risk, i.e cash flow savings
* Terms and conditions apply.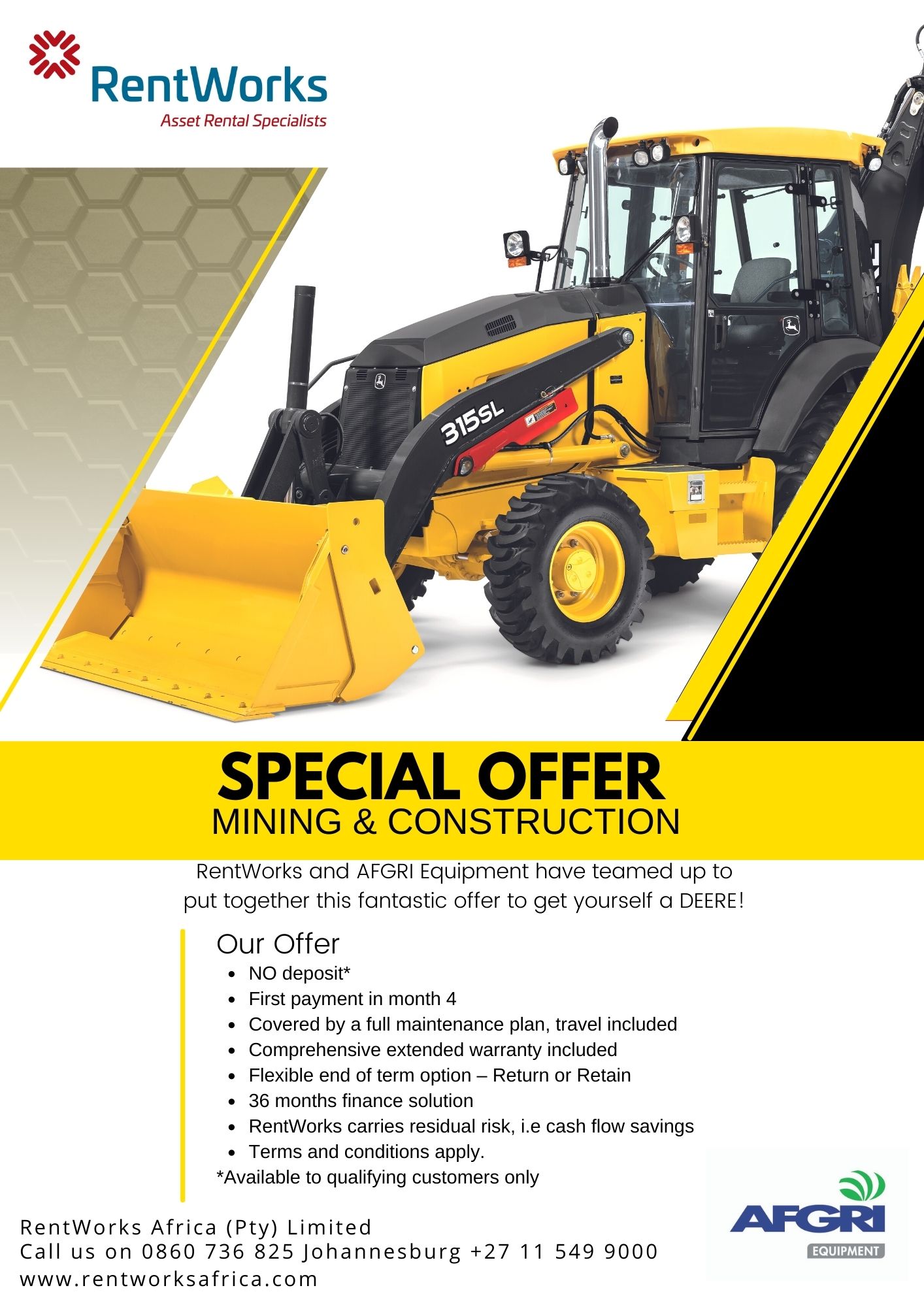 To apply for this deal please click the link below: